Gastronomy » Cookery & Pastry
Ref ID: 1GC2019/8013

|

Posted On: 15-09-2019

|

Updated on: 15-09-2019
Falafel Platter with Tzatziki Sauce (Greek style)
Greek
Published by ArthurPirlian
Click on photo to view full image or click to watch video.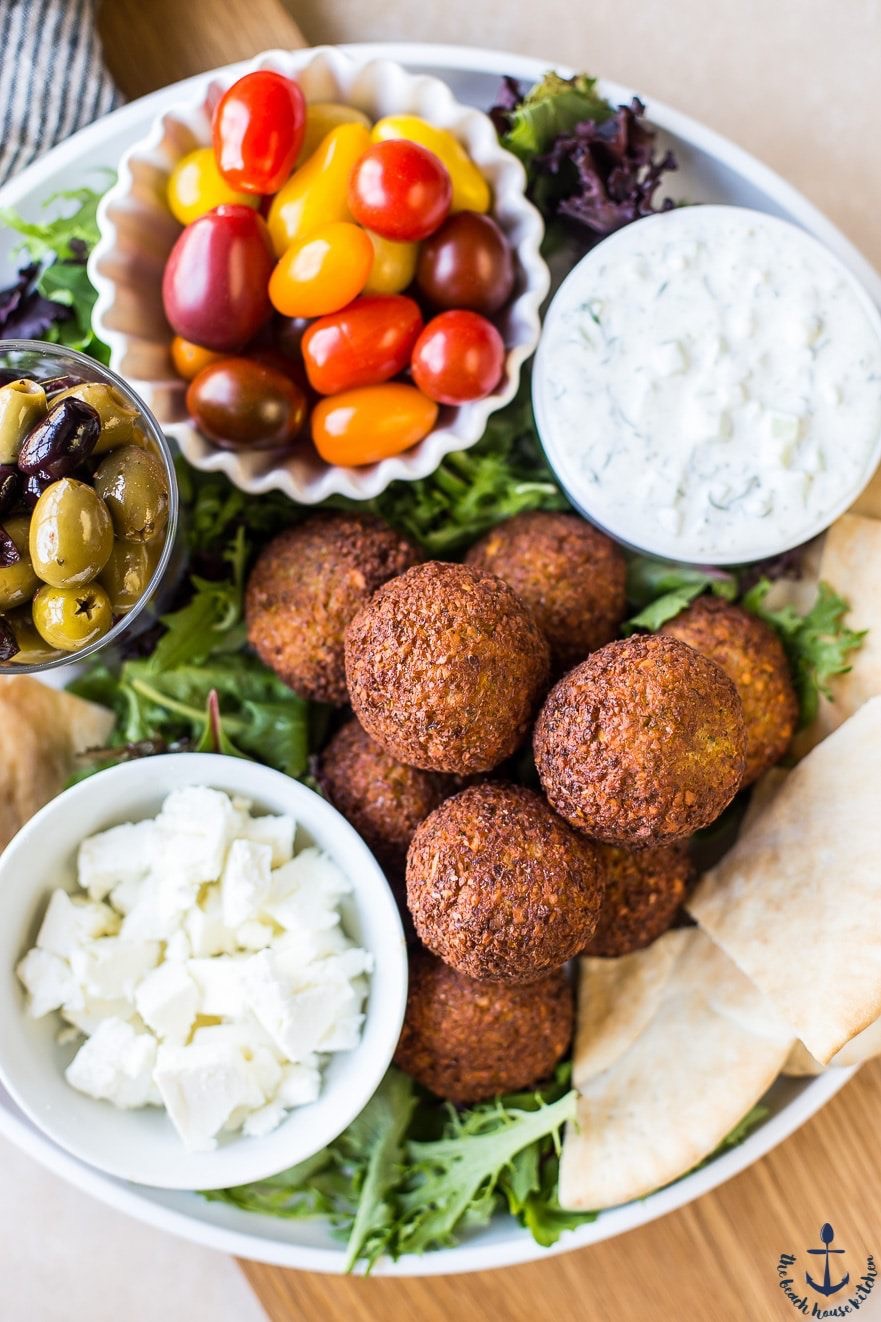 Attachment file : No attachment available.
Advice / Accompaniment
(Vegetable...)
Suggestions
(wine, beverage...)
Ingredients
Servings: 20 falafel balls

Falafel

1 cup dried chickpeas
1 cup yellow onion, roughly chopped
3 cloves garlic
2 Tbsp. fresh parsley, chopped
2 tsp. cumin
1 tsp. ground coriander
1 1/2 tsp. salt
1/4 tsp. freshly ground black pepper
1/4 tsp. cayenne pepper
3 Tbsp. all-purpose flour
canola oil for frying
Tzatziki Sauce
2 5.3-oz. containers plain Greek yogurt
1 medium English cucumber, peeled, seeded and finely chopped
2 cloves garlic, minced
2 Tbsp. fresh dill, finely chopped
1 Tbsp. freshly squeezed lemon juice
1/2 tsp. salt
1/2 tsp. freshly ground black pepper
1 Tbsp. extra virgin olive oil
Additional Platter Items
Feta cheese
green and Kalamata olives
variety of grape tomatoes
pita wedges
spring mix
Instruction
Falafel


Add the dried chickpeas to a large bowl. Cover by at least 2-3 inches with cold water. Soak overnight, then drain.
Add drained chickpeas, onions, garlic, parsley, cumin, coriander, salt, pepper and cayenne to the bowl of a food processor fitted with a steel blade. Process until the mixture is blended, but not pureed.
Sprinkle in the flour and pulse a few times. Add the mixture to a bowl and refrigerate, covered, for about 2-3 hours.
Remove mixture from refrigerator and form into walnut sized balls. If balls are not staying together, add a bit more flour. (I found 3 tablespoons of flour worked perfectly.)
Heat about 3 inches of canola oil in a deep pot to 375 degrees. Fry 4-6 balls at a time, a few minutes on each side (about 2 minutes each side), until lightly golden brown. Remove with a slotted spoon to a paper towel-lined plate.
Tzatziki Sauce
Combine all ingredients in a medium bowl, whisk together until well combined. Chill