Gastronomy » Cookery & Pastry
Ref ID: 1GC2019/8021

|

Posted On: 24-09-2019

|

Updated on: 24-09-2019
Shrimp Pesto Pasta
Italian
Published by ArthurPirlian
This recipe for shrimp pesto pasta is spaghetti tossed in a flavorful pesto sauce, then topped with sauteed shrimp and tomatoes. A fresh and easy dinner that's quick to make and packed with flavor!
Click on photo to view full image or click to watch video.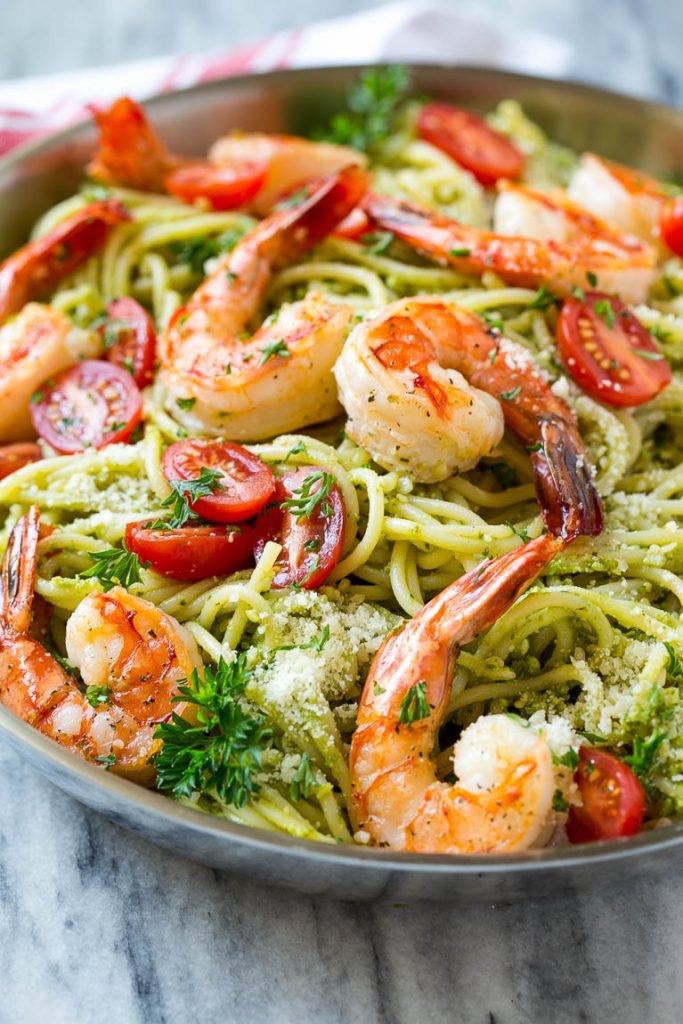 Attachment file : No attachment available.
Advice / Accompaniment
(Vegetable...)
Suggestions
(wine, beverage...)
Ingredients
10 ounces dry spaghetti can also use linguine or fettuccine
3/4 cup basil pesto
1 pound medium to large shrimp peeled and deveined
1 tablespoon olive oil
1 teaspoon Italian seasoning (or equal parts garlic powder dried basil and dried oregano)
salt and pepper to taste
1/4 cup parmesan cheese
1 cup cherry tomatoes halved
Optional garnish: chopped parsley
Instruction
Bring a large pot of salted water to a boil and cook the pasta according to package directions.
While the pasta is cooking, prepare the shrimp.
Heat the olive oil in a large pan over high heat. Add the shrimp and sprinkle with Italian seasoning, salt and pepper.
Cook for 2-4 minutes or until shrimp are just pink and opaque. Turn off the heat.
Drain the pasta and add it to the pan with the shrimp. Stir in the pesto.
Add the cherry tomatoes and parmesan cheese to the pan. Garnish with chopped parsley if desired.