Gastronomy » Cookery & Pastry
Ref ID: 1GC2019/8106

|

Posted On: 14-12-2019

|

Updated on: 14-12-2019
Greek lamb kleftiko with potatoes, oregano and lemon
Greek
Published by ArthurPirlian
Click on photo to view full image or click to watch video.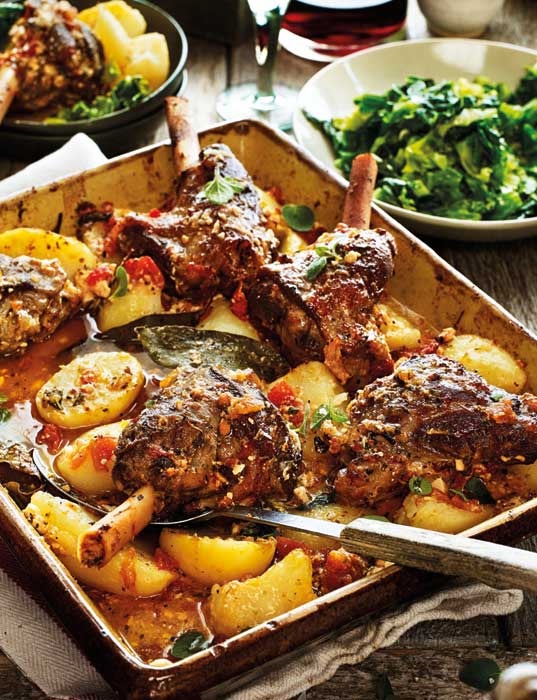 Attachment file : No attachment available.
Advice / Accompaniment
(Vegetable...)
Suggestions
(wine, beverage...)
Ingredients
2 tbsp extra-virgin olive oil
juice of 2 large lemons
1 head of garlic (about 10 cloves), crushed
6 fresh bay leaves
1 tbsp dried oregano
2 tbsp fresh oregano leaves, plus extra to garnish
1.5kg waxy main-crop potatoes, such as Desiree
6 large tomatoes, skinned and cut into small chunks
200g feta cheese, coarsely crumbled
6 small lamb hind shanks, each weighing between 350-400g



Instruction
Step by step

Get ahead
Prepare to the end of step 2, cover and chill overnight. Allow an extra 30 minutes cooking time from chilled.
1- Preheat the oven to 190°C, fan 170°C, gas 5. Put 1 tablespoon of the olive oil, the lemon juice, crushed garlic, bay leaves, dried and fresh oregano into a large, heavy-based casserole with 1 teaspoon of salt and 1 teaspoon of black pepper and stir together.
2 - Peel the potatoes and cut them into large 6cm chunks. Add them to the casserole with the chopped tomatoes and 150g crumbled feta cheese and mix together well. Nestle the lamb shanks down into the potato mixture and pour over 100ml water; drizzle with the rest of the olive oil.
3 - Cover the casserole with foil and a close-fitting lid and bake for 3 hours until the meat is falling off the bone, checking after 2 hours to see if it needs a little more water. Cook uncovered for the final 30 minutes. Serve at the table, straight from the pot, scattered with a little more oregano and the remaining feta.
4 - Tip To cook in the slow cooker:Use the same water quantity, mix all the raw ingredients thoroughly first before transferring to a 6.5-litre slow cooker, cover and cook for 6 hours on high. Skim the fat from the surface using a ladle and serve topped with the oregano and feta.