Gastronomy » Cookery & Pastry
Ref ID: 1GC2020/8123

|

Posted On: 06-01-2020

|

Updated on: 06-01-2020
Published by ArthurPirlian
Click on photo to view full image or click to watch video.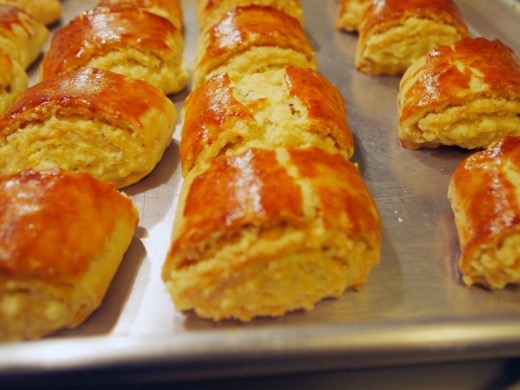 Attachment file : No attachment available.
Advice / Accompaniment
(Vegetable...)
Suggestions
(wine, beverage...)
Ingredients
Equipment:
2 bowls
2 cookie sheets
pastry brush
rolling pin, or empty wine bottle
crinkle cutter, or a sharp knife


Ingredients:
4 1/2 cups (563 g) all-purpose flour, sifted
8 oz (227 g) sour cream
3 1/2 sticks (397 g) softened butter (room temperature)
1 packet (2 1/2 tsp, or 7 g) active dry yeast
1 1/2 cup (338 g) sugar
2 tsp (10 ml) vanilla extract
1-2 egg yolks (for the wash; alternatively, some yogurt, egg whites, or a whole egg)
Instruction
Make the Pastry Dough
Sift 3 cups (375 g) of the flour into a large bowl.
Add the dry yeast, and mix it in.
Add the sour cream, and 2 sticks (227 g) of the softened butter.
Use your hands, or a standing mixer with a paddle attachment, to work it into a dough.
If using a standing mixer, switch to a dough hook. If making manually, continue to knead for about 10 minutes, or until the dough no longer sticks to the bowl or your hands. If it remains very sticky, add some flour, a little at a time.
Cover the dough and refrigerate for 3-5 hours.


Make the filling
Mix together the remaining (1 1/2 cups, 188 g) flour, the sugar, and the remaining (1 1/2 stick, 170 g) of softened butter.
Add the vanilla extract.
Mix the filling until it looks like clumpy, damp sand. It should not take long.
Make the nazook
Cut the refrigerated dough into quarters.
Form one of the quarters into a ball. Dust your working surface with a little flour.
Roll out the dough into a large rectangle or oval. The dough should be thin, but not transparent.
Spread 1/4 of the filling mixture across the rolled-out dough in an even layer.
From one of the long sides, start slowly rolling the dough across. Be careful to make sure the filling stays evenly distributed. Roll all the way across until you have a long, thin loaf.
Pat down the loaf with your palm and fingers so that it flattens out a bit (just a bit).
Apply your egg yolk wash with a pastry brush.
Use your crinkle cutter (or knife) to cut the loaf into 10 equally-sized pieces. Put onto an ungreased cookie sheet.
Place in an oven preheated to 350F (175C) for about 30 minutes, until the tops are a rich, golden brown.
Allow to cool and enjoy!
Variations
The pastry dough can be made with egg yolks instead of the sour cream, if you want a richer-hued pastry dough. Apparently this is the way my grandmother made it. You'd need to add enough yolks to achieve the same dough consistency as you would with the sour cream.
There are far more variations when it comes to the filling. Here are some common variations and additions (from traditional to less traditional):
mahleb - a powder made from the pits of a type of cherry; it has an almond/cherry flavor
nutmeg
cinnamon
ground walnuts
ground hazelnuts