Gastronomy » Cookery & Pastry
Ref ID: 1GC2020/8124

|

Posted On: 08-01-2020

|

Updated on: 08-01-2020
Vegetarian stuffed grape leaves
Armenian
Published by ArthurPirlian
These Vegetarian Stuffed Grape Leaves are a Mediterranean classic recipe made with short grain rice, parsley, tomatoes and onions - my favorite appetizer!
Click on photo to view full image or click to watch video.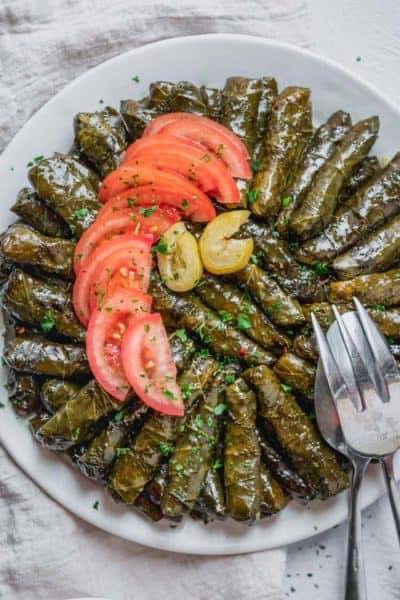 Attachment file : No attachment available.
Advice / Accompaniment
(Vegetable...)
Suggestions
(wine, beverage...)
Ingredients
1 jar grape leaves (about 60-70 in brine)
2 cups short grain rice
1 large tomato, finely chopped (about 3/4 cup)
1 bunch parsley, finely chopped (about 1/2 cup)
1 bunch green onions, finely chopped (about 1/2 cup)
1/4 green pepper, finely chopped (about 1/4 cup)
1 tablespoon crushed red pepper
1 tablespoon minced garlic
Salt and pepper, to taste
1/4 cup olive oil + 1/2 cup
1 large tomato, sliced
3/4 cup lemon juice
Instruction
GRAPE LEAVES & FILLING PREP
Remove the grape leaves from the jar, and soak them in a large bowl of boiling hot water for a few minutes. Drain the grape leaves in a colander and stack them on a plate.
It is best to cover them with a damp cloth so they don't dry out, until you are ready to start rolling them.
Combine the rice, tomatoes, parsley, green onions, green peppers, crushed red pepper and garlic. Season with salt and pepper and drizzle 1/4 cup of the olive oil over the mixture. Toss to combine well.
GRAPE LEAVES WRAPPING
To stuff and roll the grape leaves, lay a grape leaf flat on a cutting board, scoop out a heaping teaspoon of the rice mixture into the center of the grape leaf, and carefully fold in the sides and roll it like you would when making a wrap. The trick is to roll it tightly enough so that it doesn't unravel while cooking, but not too tightly since the rice needs room to expand as it cooks. Repeat until all the stuffing has been used.
PUTTING IT ALL TOGETHER
Place all the wrapped grape leaves in a tray.
Line the bottom of a large pot with tomatoes and/or potatoes and season with salt/pepper. The vegetables at the bottom are used to buffer the grape leaves from burning at the bottom while the stuffing/filling cooks.
Neatly arrange the stuffed and rolled grape leaves in rows, alternating directions, to completely cover the circumference of the pot. Make sure to tightly pack them in the pot to prevent them from floating up and unwrapping during cooking.
Drizzle each layer with some of the 1/2 cup of olive oil and season with salt and pepper to taste.
When you've filled the pot with all the grape leaves, place a plate upside down on top of the grape leaves in the pot. Next use something to weigh it down (a second plate works well or a bowl full of water). This will hold down the grape leaves in place, and prevent floating while they are cooking).
Add enough boiling water to completely cover the grape leaves and the plate. I use 5 cups of water for 2 cups of rice. Then cover the pot and cook on medium heat for 30 minutes, until most of the water is absorbed and the rice is cooked.
Add the lemon juice on top of the grape leaves, then cook on low heat for an additional 45 minutes. Cooking time may vary depending on the type of pot used and the stovetop heating. You can remove a grape leaf and check if the rice is cook and the leaf is soft.
Remove from heat and let cool uncovered. Transfer to a dish and enjoy warm or at room temperature.
https://feelgoodfoodie.net/recipe/stuffed-grape-leaves/
NOTES:
You can cook this using a pressure cooker. In that case, no plates are needed to hold down the grape leaves. Just pack the stuffed grape leaves in the pressure cooker, add the water, close and cook for 15 to 20 minutes at the first pressure mark.
If you have very large leaves, you can cut the stem and use half the leave per roll. This will also make sure there aren't any rough stems in the rolled grape leaves.
Make Ahead Tip: Refrigerate cooked grape leaves for up to 3 days. Reheat with a little water in a skillet or microwave. Or freeze uncooked grape leaves in a single layer, then transfer to an airtight container and freeze for up to 3 months. Defrost overnight in the fridge
Storage: Store any leftover grape leaves in an airtight container in the fridge for up to 5 days.
Leftover stuffing can be cooked alone or used to make stuffed vegetables like, peppers, zucchini, and eggplant.
Sourcing: You can find jars of grape leaves at Middle Eastern markets, natural-foods stores or even in large supermarkets, often located with other Middle Eastern ingredients. You can also buy on amazon.com. These are my favorite brands: Orlando or Cortas.