Gastronomy » Cookery & Pastry
Ref ID: 1GC2020/8126

|

Posted On: 12-01-2020

|

Updated on: 13-01-2020
Vegetarian - Grape leaves stuffed with bulgur and chick-peas
Armenian
Published by ArthurPirlian
Click on photo to view full image or click to watch video.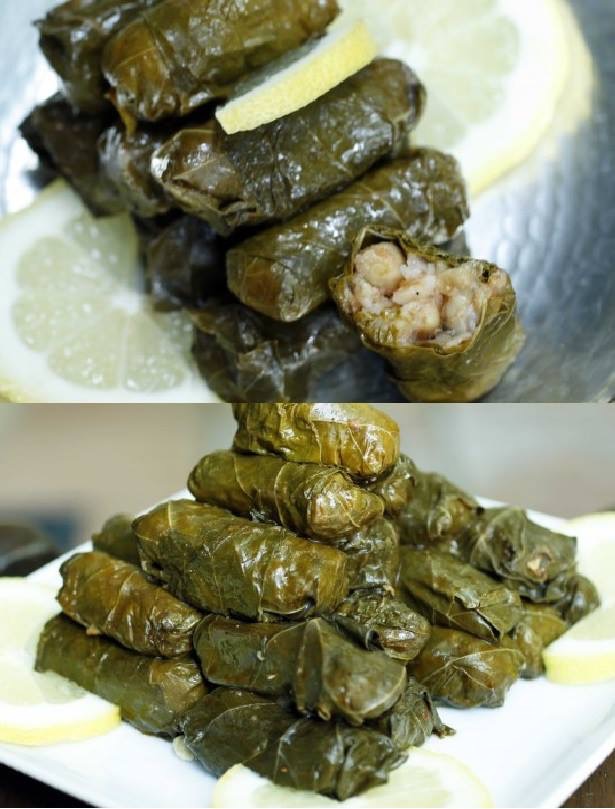 Attachment file : No attachment available.
Advice / Accompaniment
(Vegetable...)
Suggestions
(wine, beverage...)
Ingredients
1/2 pound of grape leaves or swiss chard leaves
1 cup of fresh lemon juice
1 cup of extra-virgin olive oil
1 very large onion, chopped fine
1 cup of coarse bulgur #4 or #3
2 cups of cooked chick peas
1 bunch of parsley, leaves chopped fine
3 Large tomatoes, peeled and chopped fine
1/2 bunch of chopped mint leaves (or a few tablespoons of dried ones)
2 Tablespoons of hot red Aleppo pepper (optional) or hot pepper paste
salt, pepper, allspice, cinnamon, to taste
2 potatoes (to line the pot, optional)
Instruction
METHOD:
Prepare the grape leaves by throwing them in a lot of boiling water for a couple of minutes, then draining them and setting them aside.
Pour some hot water over the bulgur and let the grains swell up while you prepare the rest of the stuffing ingredients.
Place all the stuffing ingredients in a bowl, season and add the drained bulgur. Moisten with a bit of olive oil and lemon juice, leaving the rest to go into the pot while the leaves are cooking.
Start wrapping the leaves; play some music, if you like, because it will take about 45 minutes.
Cut the potatoes in 1/2 inch slices and line the pan with them; this is extra insurance, to avoid burning the leaves, but it is not absolutely necessary. You can also use tomatoes to line the pot.
To cook the leaves:
After lining the pot (or not), place the little bundles tightly side-by-side; cover the leaves with a small plate snugly; add water halfway up the pot and pour the lemon juice and olive oil and a dash of salt on top of the leaves. Cover the pot and bring to a slow simmer; simmer for one hour or a bit longer, until the leaves are fully cooked. Cool.
To serve, flip the pot onto a serving platter and serve at room temperature.