Gastronomy » Cookery & Pastry
Ref ID: 1GC2019/8115

|

Posted On: 22-12-2019

|

Updated on: 22-12-2019
Published by ArthurPirlian
Click on photo to view full image or click to watch video.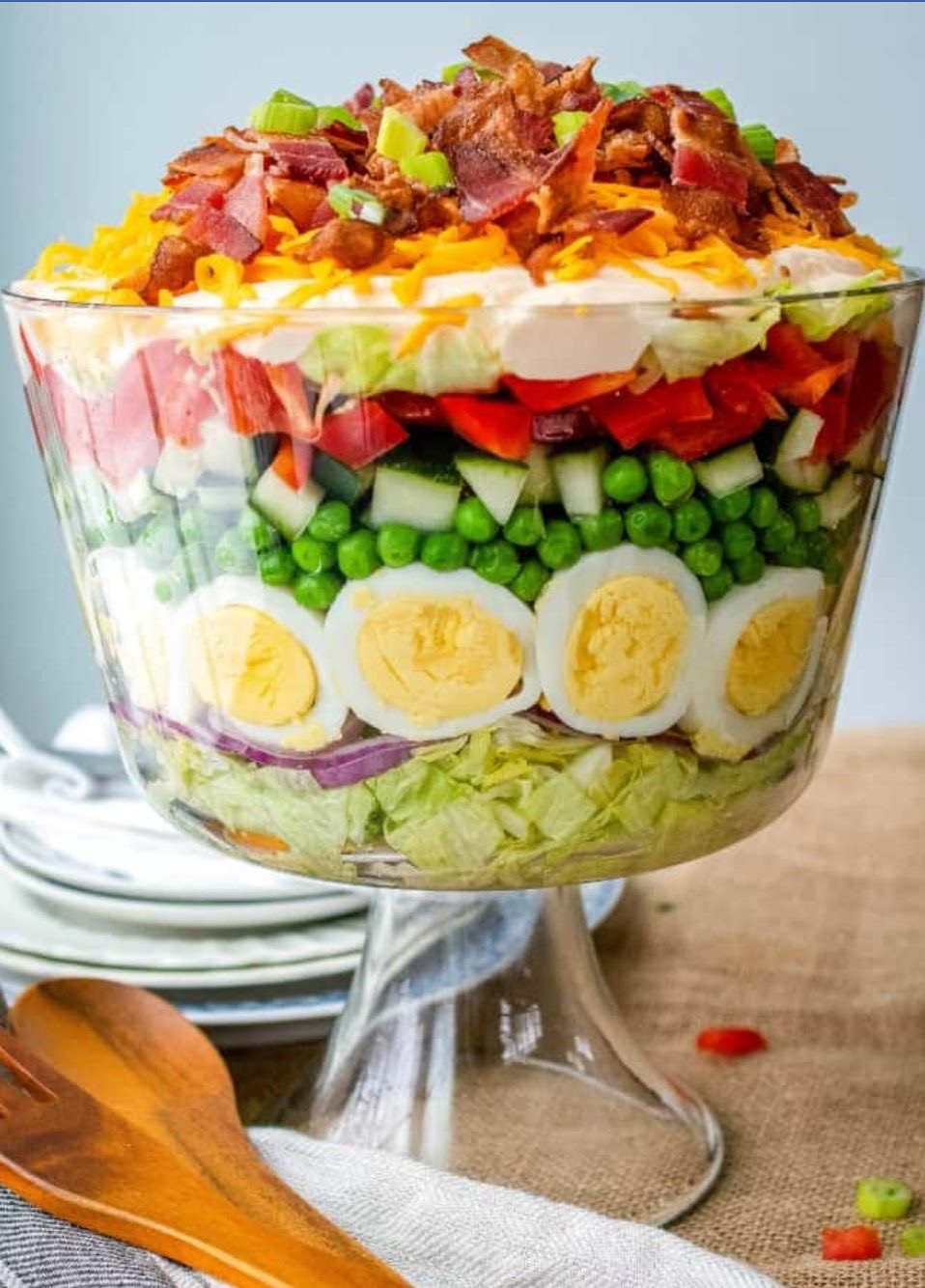 Instructions
Wash the chopped lettuce and thoroughly dry. Running through a salad spinner and then laying on a dish towel to soak up excess water is recommended. Meanwhile, soak red onion in a small bowl of cold water for 5 minutes to mellow flavor. Drain and pat dry.
Layer half the lettuce on the bottom of a trifle bowl or glass bowl. Sprinkle with 1/2 teaspoon of salt. Layer red onion on top.
Slice 3 eggs and place, standing up, around the edge of the bowl, sitting on top of the onion. Chop the remaining eggs and sprinkle on top of onion. Alternatively, chop all the eggs and layer on top.
Layer frozen peas, bell pepper, and cucumber on top. Add remaining lettuce to bowl and sprinkle with remaining 1/2 teaspoon of salt.
Mix together all the dressing ingredients and spread on top of the lettuce.
Sprinkle cheese and bacon on top. Cover with plastic wrap and refrigerate for at least 6 hours. (see note) It isn't necessary to toss the salad before serving. Leaving layers in tact will keep the salad crisp and fresh longer.
Notes
This recipe can be made up to 24 hours in advance.


Ingredients
Salad:
1 head iceberg lettuce, cored and chopped
1 teaspoon salt
1/2 medium red onion, sliced thin
6 hard boiled eggs, peeled
2 cups frozen peas
1 red bell pepper, seeded and chopped
1 cucumber, halved, seeded, and chopped
1 1/2 cups cheddar cheese, shredded
10 slices bacon, cooked until crisp and chopped
Dressing:
1 1/2 cups mayonnaise
3 tablespoons cider vinegar
1 tablespoon hot sauce, Frank's Red Hot is preferred
1 tablespoon sugar
1/2 teaspoon pepper
Presentation of domain
Traditional 7 Layer Salad recipe layers an ultra creamy dressing with lettuce, peas, cheese, eggs, and bacon. Layer salad can be made ahead, refrigerated overnight.

Source Facebook :
https://www.facebook.com/armenianinternationalcuisinesandmore/

Comments tasting
Advice / Accompanimentt
(Dish...)
Keeping