Gastronomy » Cookery & Pastry
Ref ID: 1GC2020/8116

|

Posted On: 04-01-2020

|

Updated on: 04-01-2020
Published by ArthurPirlian
Click on photo to view full image or click to watch video.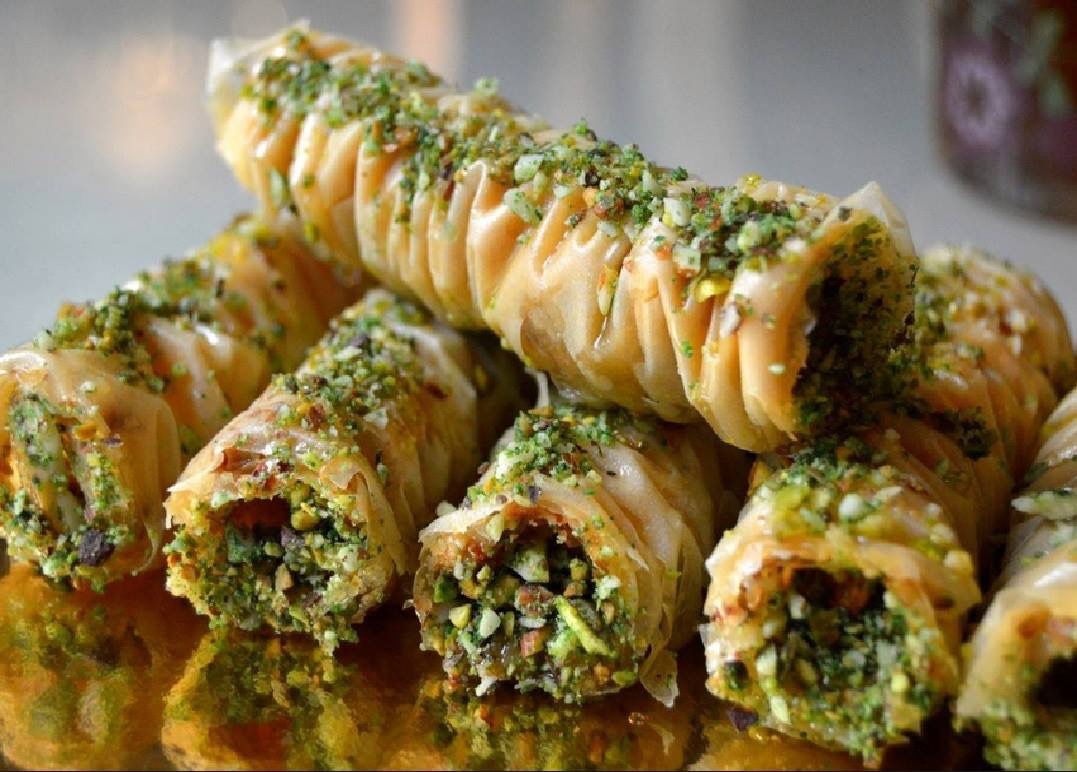 Instructions
1. Take all the syrup ingredients in a pan.
2. Bring it to boil and cook for 8-10 minutes
3. Let it cool before using .because we don't want our baklava to get soggy. Hot syrup will make baklava soft .
4. Mix together all the dough ingredients and make a dough.
Most probably you will not need water for the dough ...but if you need you can use a little water.
5. Keep kneading the dough until it stops sticking to the pan.
6. let the dough rest for 15 minutes.
7. Make phyllo sheets as shown in the video.
Or use readymade phyllo sheets.
8. Brush a good amount of melted butter on phyllo sheets before and after shaping the baklava. Butter will give your baklava a nice colour and crisp. For a perfect taste of baklava fill in as much nuts as possible ..
9. Bake it in preheated oven at 150°c for 40 to 45 minutes.
10. Pour sugar syrup on baklava .
11. Let baklava sit in sugar syrup for 4 to 6 hours for best results.
Enjoy your homemade baklava with a hot cup of tea.
Ingredients
For syrup you need
Sitar 4 cups
Water 2 1/2 cups
Lemon juice 1 tablespoon
Cinnamon 3 inches stick
For dough you need
All-purpose flour 3 cups
Egg 1
Baking powder 2 teaspoon
Oil 1/4 cup
Milk 3/4 cup
Plus you need
150g melted butter
and a mixture of
Cornstarch (2 cups)
and
All-purpose flour (1/2 cup)
to sprinkle between dough sheets...this mixture will help dough sheets to not stick together.
For filling you need
Nuts of your choice – in this recipe she used 1 cup pistachio and 1 cup almonds chopped well or use food processor.
Pistachio
Almond
Walnuts
Pecans
Put as much nuts as you can ...because baklava tastes great with more and more nuts.
Presentation of domain
BAKLAVA is a rich sweet delicious phyllo pastry popular in Middle Eastern countries. ... In baklava, layers of crisp phyllo dough filled with chopped nuts, and the whole thing is then soaked in fragrant sweet syrup made with sugar, lemon and cinnamon..
Ready made phyllo pastry sheets are always easily available in all super stores (in freezer section)...you can use ready made phyllo as well ...we always try to show recipes from scratch for people with limited sources can also enjoy these tastes.
Comments tasting
Advice / Accompanimentt
(Dish...)
Keeping