Gastronomy » Cookery & Pastry
Ref ID: 1GC2020/8125

|

Posted On: 10-01-2020

|

Updated on: 13-01-2020
Published by ArthurPirlian
Click on photo to view full image or click to watch video.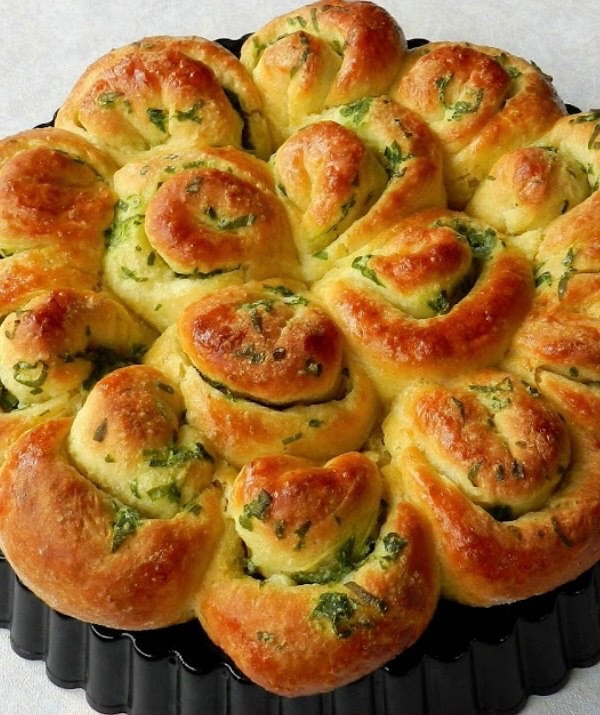 Instructions
Garlic butter:
Put butter, salt, green onion in a small bowl, mix until combined. Add garlic powder/minced garlic into the mix and continue mixing until well blended. Keep in the fridge until ready to use.


Make the dough :
a mixing bowl put flour, make 3 wells. Add into each well : sugar, salt, yeast. Stir sugar and yeast first then stir together using a wooden spoon.
Pour warm milk and beaten egg (minus 2 tbsp). Stir until combined.
Add soft butter, continue stirring until well blended into a smooth sticky dough.
Put the dough into greased bowl. Cover with cling wrap and put in warm place for about an hour. An hour later the dough will be very soft and hollow. When you pull the dough, it will show the hollows all around. Sprinkle with extra flour and start folding with fingertips (not kneading). Sprinkle more flour as needed but not too much.
Dust work table with flour before put the dough. Flatten the dough with hand. Cut into 16 pieces. 6. Shape the dough into balls. Sprinkle with flour to prevent sticking.
Flatten or press the dough with fingers, spread with 1/2 tsp of garlic butter. Fold into a half-moon then gather both corners creating a flower petal. Repeat the method until finished.
Arrange on greased a round baking pan ( I used inverted pie pan). Cover with loose cling wrap for 30 minutes. Let rise.

Brush beaten egg on top. Bake at 175°C pre-heated oven, for 30 minutes until golden brown and blooming. Let stay in the pan for 10 minutes.
https://myhoneysplace.com/flower-ga

https://youtu.be/cRTMiISTWGM

Ingredients
Dough :
2.5 cups all-purpose flour

3 tbsp granulated sugar

1/2 tsp fine salt 1 tbsp dry yeast

3/4 cup warm milk

1 large egg beaten. Keep 2 tbsp for later use.

3 tbsp butter room temperature

Extra flour as needed
Garlic Butter:
1 cup butter/margarine soft at room temperature (not melted)

1 tsp fine salt table salt

1/2 cup minced green onion

1 tsp garlic powder / minced garlic
Presentation of domain
The bread is soft and fluffy, savory, garlicky and delicious. Is great to serve with soup or just enjoy the way it is. Best to serve while still warm. To reheat: use a microwave at medium level for 1 minutes or use an oven at 150°C for 15 minutes.
Comments tasting
Advice / Accompanimentt
(Dish...)
Serve with hot soup or just enjoy the way it is.
Keeping