Gastronomy » Cookery & Pastry
Ref ID: 1GC2020/8292

|

Posted On: 20-09-2020

|

Updated on: 20-09-2020
Stuffed Potatoes With ground beef, pine nuts spices
Armenian
Published by ArthurPirlian
Click on photo to view full image or click to watch video.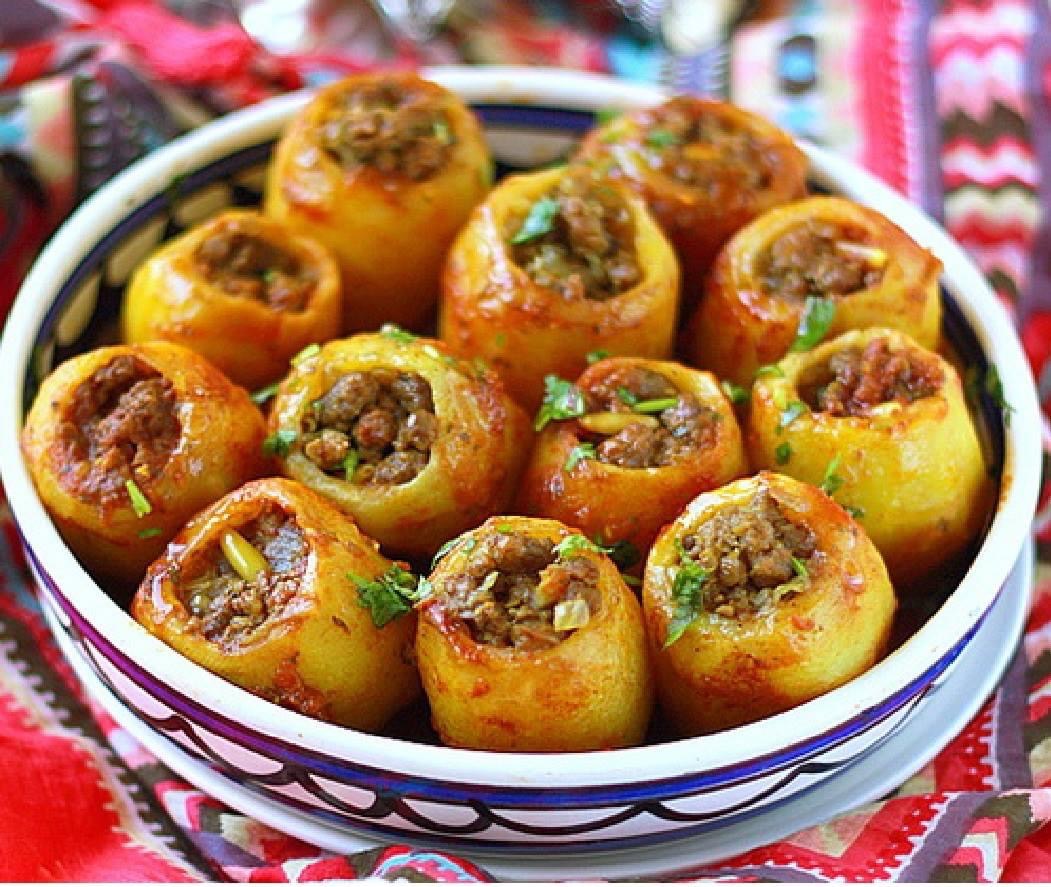 Source: Facebook : Armenian International Cuisines and More
Attachment file : No attachment available.
Advice / Accompaniment
(Vegetable...)
Suggestions
(wine, beverage...)
Ingredients
Ingredients
1kg Potatoes**
¼ kg Minced Meat
4 Tomatoes – medium size
2 tbsp tomato paste
4 tbsp Olive oil
2 Onions – medium size, finely chopped
¼ tsp cinnamon
Pinch of All spice
Salt and pepper
1 - 2 Tbs of pine nuts
Chopped parsley to sprinkle before serving
Items needed:
Saucepan
1 deep pot
1 sieve
1 medium skillet
1 wooden spoon
Flame proof casserole
Instruction
After removing the inside it is best if you fry them lightly on all sides then stuff them it does give great color and taste to the dish . .Of course it's your choice!
Preparation
Preparing meat stuffing: In a small pan, heat 2 tbsp oil over medium heat. Stir in one onion until yellow. Add minced meat and stir well for 2 minutes. Season with salt, pepper, all spices and cinnamon. Reduce heat; cover pan and leave to cook for about 20 minutes. Add Pine nuts and mix. If it becomes too dry, add ¼ cup water.
Preparing tomato sauces: Blend tomatoes in a blender with ¼ cup water. Dissolve tomato paste in a cup of water. In a small saucepan, heat 2 tbsp oil over medium heat. Add the other onion stirring frequently until golden. Add blended tomatoes, tomato paste, salt and pepper. Reduce heat and leave to simmer for 15-20 minutes.
Preparing potatoes: While sauce is being cooked, prepare potatoes. Peel potatoes and remove the inside part by holding potato in your hand and pressing the tip of a sharp knife into center of the potato till close to its end. Make a circle with the knife to remove the inside. Boil potatoes shortly but not until it is tender so as not to fall apart.* BE VERY CAREFUL WHEN USING THE KNIFE…
Stuffing and cooking potatoes: Heat oven to 180-200 C. Stuff each potato carefully with about 1 tbsp of meat stuffing. In a baking dish, arrange the inside parts of potatoes at bottom of dish. Arrange stuffed potatoes in a standing position with their tops facing upwards. Pour tomato sauce over stuffed potatoes. Place dish in oven and bake for 25-30 minutes. Serve right away in same dish.
Useful tip
The potatoes could also be fried instead of being boiled. This would give the potato a Golden color but at the same time makes the dish heavier.